After leaving Austin and heading west, Texas got pretty...desolate.
We drove through a lot of little dilapidated towns where we played "find the church" and "find the post office." Every town, no matter how small, had a post office and church. Sometimes multiple churches.
Of course, driving on open two-lane roads is WAY better than sitting in anger-inducing city traffic. Not to mention that we had excellent music in the car. Between Ben Howard, The Lumineers, and Trevor Hall, driving was an auditory experience.
Other than our concert on wheels, the highlight of that first day was Roswell, NM. We had planned from the beginning to make a mid-day stop in Roswell and view some top-notch alien-inspired kitsch.
That's right, folks. It is a museum AND RESEARCH CENTER. With such damning evidence as:
I enjoy that last photograph thusly: First, it has our reflections in it, which is kind of cool in a terrible photography skills kind of way. But second is that the poster is a purely pictorial explanation. This is what the poster board is demonstrating:
There are three different types of alien encounters.
First Kind is simply seeing the spaceship in the air
Second Kind is when the spaceship lands on Earth
Third Kind is actual contact with the aliens themselves
(Hence the movie title: Close Encounters of the Third Kind)
You're welcome for that crucial education.
The absolute best displays are the straight up alien reproductions.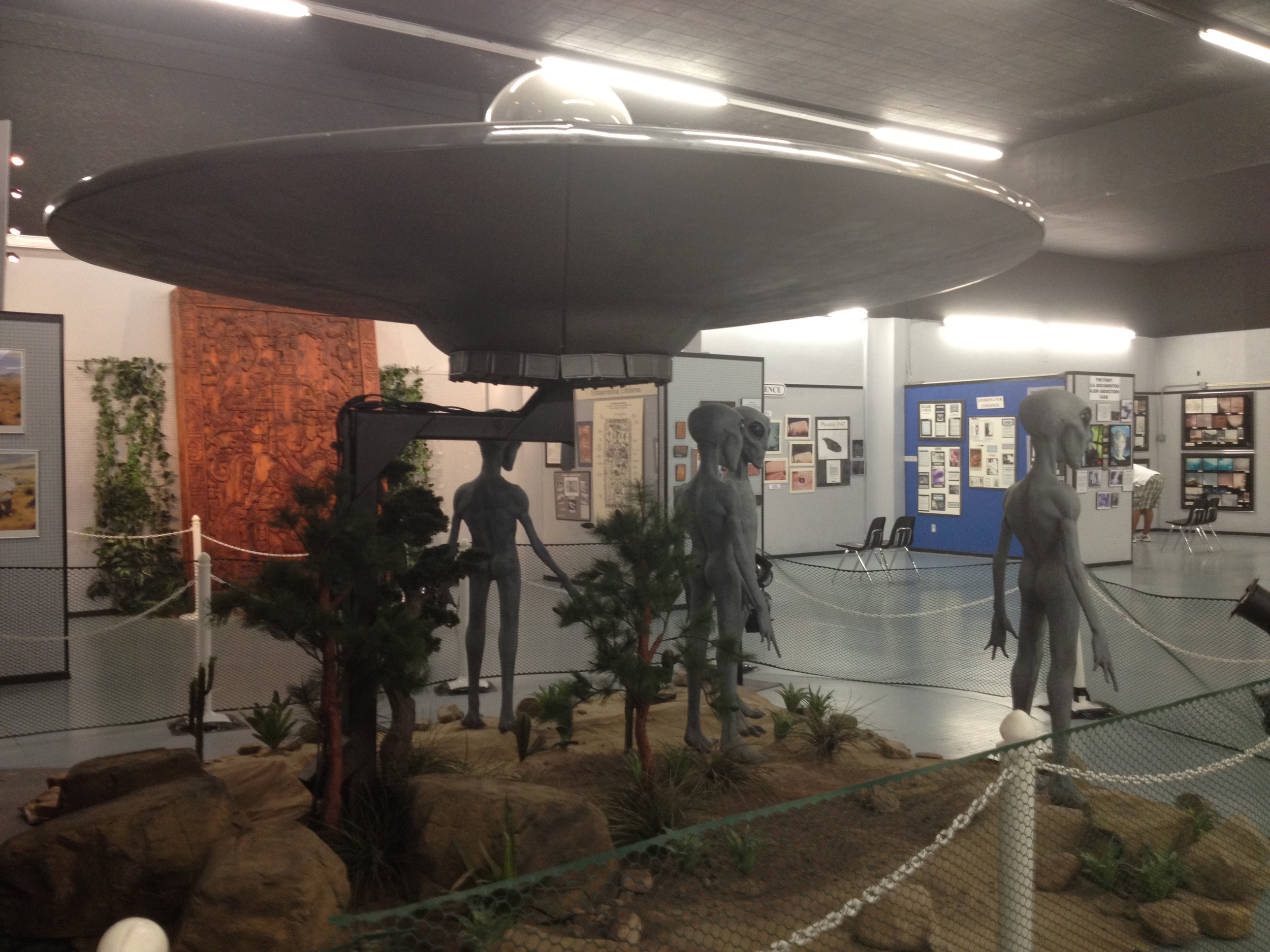 **I would like to point out that I am wearing sunglasses inside of the museum in that picture, not because I'm just that cool, but because we got up stupid early in the morning in order to be able to make it from Austin to Albuquerque in one day. Without the sunglasses on I looked like death. It also would appear that I was too tired to focus and frame photos properly, so yes those pictures are a bit wonky. Apologies.
Every half-hour the central alien display lights up and the saucer spins. The aliens' legs are illuminated with blue light and actual Christmas tree lights are involved. It feels very true to life.
Although, in all seriousness, Roswell is flat. Too flat. Unnaturally flat. Therefore, Carmella and I concluded that there is definitely a top secret facility underground and the town is so over-the-top ridiculous in order to throw us off the scent. Not us!
Oh and all of the street lamps in Roswell look like this:
After our mind-blowing experience in Roswell, where we resisted purchasing anything from here:
We continued on towards Albuquerque.
Albuquerque was not much of an experience. I'm sure that the city has plenty to offer, but we arrived late at night famished and exhausted. We barely succeeded in getting some food before passing out back at the hotel. We ended up at a rather dingy Denny's (and that is dingy on the Denny's scale if that paints a better picture) right next to our hotel since at that late hour it was one of the only options. Not that Denny's is ever quality (other than drunk at 2:00 am when it is DELICIOUS), but sober at midnight it is especially disappointing.
We stayed in a La Quinta, which seems to be becoming the budget hotel of choice for Carmella and I seeing as how we just stayed in a La Quinta in Charleston as well. (A post about that trip upcoming!)
The next morning we packed up, grabbed some coffee from the free continental breakfast, and pointed our wheels towards Sedona.